Innovative lighting products from the US
Is well known for more than 20 years in the United States and multi-awarded for their quality and innovative products in the automotive industry. FXBRANDS is very proud of being the first in Europe to offer you these amazing products from Oracle Lighting.
In their own words:
ORACLE LIGHTING HAS BEEN PRODUCING AUTOMOTIVE LIGHTING COMPONENTS SINCE 1999.
"Oracle Lighting has one goal in mind; delivering the highest quality and most innovative lighting products to their customers at fair prices.
Oracle Lighting has received accolades from numerous organisations for their business practices, including being listed on the Inc500 list of the Fastest Growing Businesses in the USA for the past 8 years consecutively, winning the 2012 Bronze Stevie Award for Consumer Products Company of the Year, also named The Small Business Administration's Exporter of the Year and a Small Business Champion by the U.S. Senate Small Business and Entrepreneurship Committee. And most recently being named Manufacturer of the Year at 2021 SEMA.
In today's world of fly-by-night vendors Oracle Lighting believes it is important to partner with businesses that you can trust to be there for you today, tomorrow, and for years to come!"
◅・☆・▻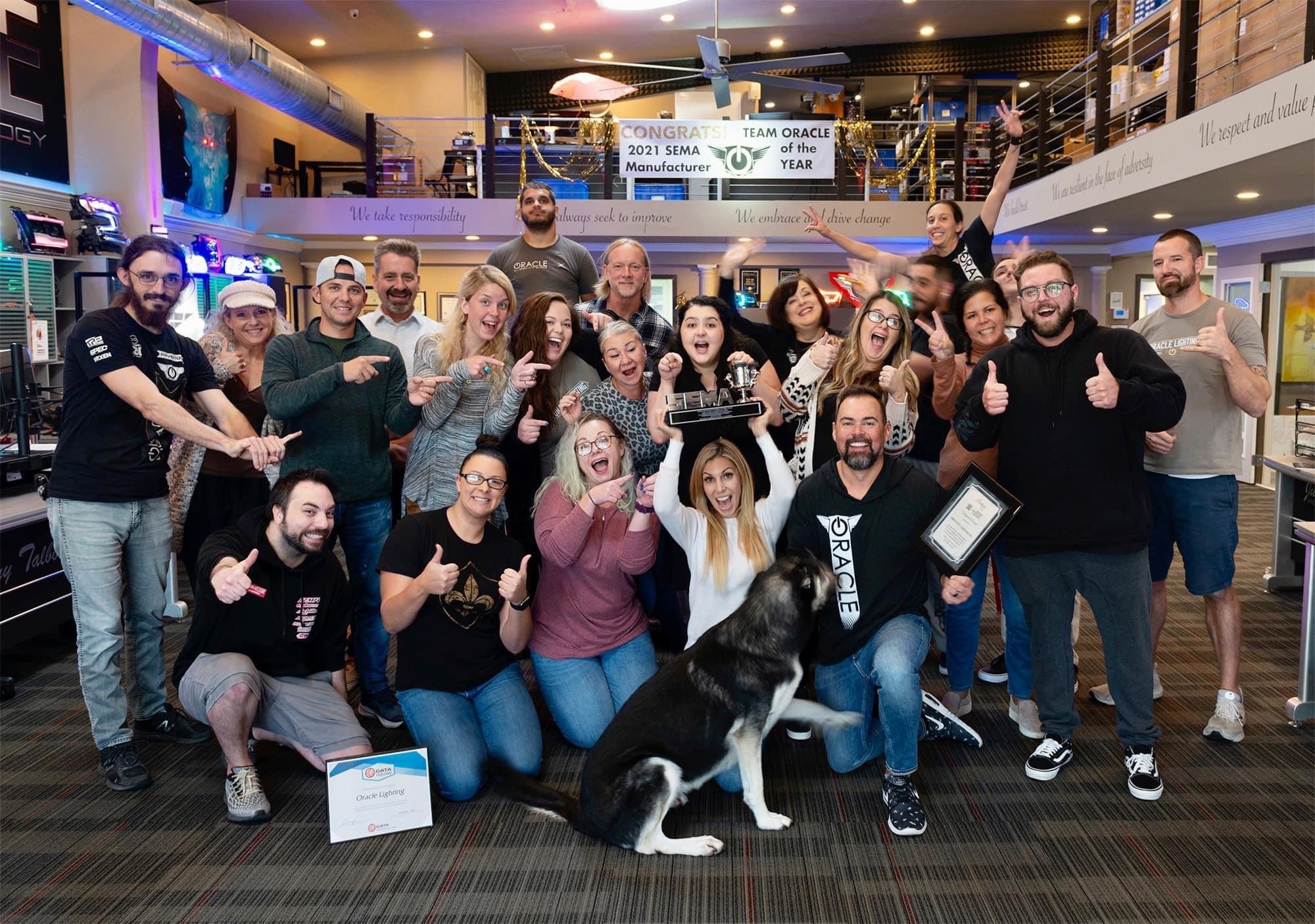 The awesome team at ORACLE Lighting - Manufacturer of the Year at 2021 SEMA !

As they have such an enormous portfolio, we had to make a first selection for our European market. And like a kid in a Candy Store, we have selected some of the coolest products from Oracle Lighting and made them available to you in our webshop. For sure this will get you all warmed up and ready to (car)dress up for the party!
If you are missing out on some of their products, like for other car brands, then please let us know! The products most requested will be added first. Let us know in the comments or via e-mail.
For now we welcome you to our own FXBRANDS' Candy Store for some high quality and awesome lighting products - and make some amazing enhancements to your beloved car. Because s/he is worth it.
Guaranteed to rock the streets and stand out at every car event and meeting!